Rhetoric for Women - intensive course for woman who want to have more say, adopt the right tone and be more assertive!
The popular training programme "Rhetoric for Women" that Nina Buchaus conducts has welcomed over 500 participants since it started in 2012. The difference between male and female communication can be an obstacle or an asset. Don't miss this training that gives you concrete tools for surer and more professional impression!
In this training programme, you learn to get your message across at meetings and oral presentations – skilfully, clearly and intelligibly.
A professional rhetoric is one that can manage challenging situations during meetings and presentations. Break ineffective habits that often make you feel limited in your role with rhetorical tricks. During the training, women will get the chance to learn how to deliver their message assertively and intelligibly. You'll also learn how to feel comfortable when giving, for example, oral presentations. By learning persuasion techniques, you'll quickly radiate more assertiveness and self-assurance. This is something you can make use of inside and outside the office, not least in different types of negotiations.
---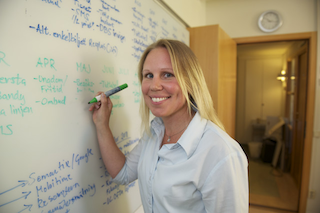 Said by participants who had followed the "Rhetoric for Women" training programme
I feel really pepped up now! A remarkable and very important course for many women – but it was still Nina Buchaus who made it all work. Many Thanks! Mia Simm, Solna City
The best thing was that in one day, we delivered so many short presentations and got direct feedback on them. Anna Källman, Atlas Copco Drills AB
Nina created a good atmosphere. She is really capable, clear and gives feedback in a constructive way. Direct and straight to the point! MANY THANKS! Michaela Rogersten
---
During the training, you learn:
Rhetoric's important foundation stones – become a skilful and committed speaker
How to overcome stage fright – How can nerves and stress be handled in a successful way?
How to put together a sales presentation
Argument and negotiate your affairs in a better way with three arguments
Body language – voice – mimicry – eye contact – subliminal messages
Practice simple voice techniques such as the art of the pause and variations of strength to emanate trustworthiness and clarity
Male and female language – what are the differences and how to make use of them based on situation and purpose?
How to master two strong characters – the open character and the credible character
Be aware of your tics; repetitive communicative signals that distort and stand in the way of what you are saying

Coaching and direct feedback – During the course, all participants get personal feedback about their presentations, which is both challenging and developmental. You are videoed and analysed on one occasion and get constructive feedback to help you achieve the best results with your own development.
---
Example of a two-day training programme
Programme and course content
The training programme abounds with concrete techniques and tools to hone your rhetoric. You get to practice all the techniques and get constructive feedback on how you implemented them. You'll also get to play a part in other participants' training and learn from their rhetoric and feedback - better examples are hard to find. Both days start at 09.00 and finish at 16.30. We take a break for lunch and afternoon tea/coffee.
---
Training course content day 1
09.00-16.30
Power poser: opening and closing techniques: taking the stage and command at the start and finishing with gusto
Concrete speaking techniques on how to awaken interest in your introductions and conclusions
Get help from all of your body with the right body position; power pose and correct opening gestures
Express yourself with the right tone from the start and choose the right words for your target group and message
You thus take the stage by storm in the introduction where you want to emanate trustworthiness and charisma
Argumentation techniques: deliver a package with three clear arguments
Create a main thread, clarity, and get to the point with the help of a rhetorical argumentation model
Rhetorical speech techniques that increase the intelligibility and impact of what you say
Make full use of the rhetorical triangle: ethos, logos and pathos – the foundation stones for creating trustworthiness
---
Training course content day 2
09.00-16.30
Character techniques: persuading with male and female styles and how you can make use of the differences!
Expressing yourself assertively: building assertiveness, putting a stop to the debate and announcing definitive decisions
Expressing yourself with openness: creating an open, motivated and positive climate for your message
Voice techniques: small subtleties that make a big difference
Getting to grips with master suppression techniques. Seeing the patterns and how you can break them
Being aware of the impression you make with your voice and practising getting rid of voice patterns that are unadvantageous
Learning to adopt the right tone and use your voice for two different purposes: the assertive voice and the open voice
Learning to master powerful pauses, emphasis and conclusive tone
Body language techniques: finding strength in your body language
Practice 12 powerful gestures and clear body positions for your oral communication
You assimilate simple tricks for the right eye contact for small and big occasions
---
For questions on training and what's on offer, please contact Nina Buchaus nina@creviretorik.se, tel: +46 (0)70-632 21 92